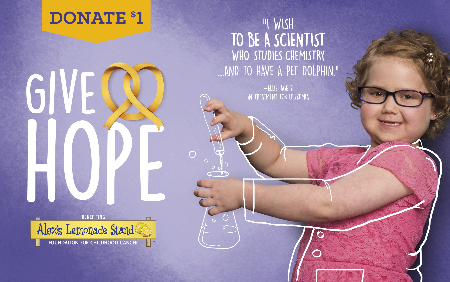 Auntie Anne's begins its fifth annual fundraising campaign to support the charitable efforts of Alex's Lemonade Stand Foundation on Monday, July 18, and the campaign runs through Sunday, September 11. 
Guests can visit Auntie Anne's to purchase a pretzel ribbon paper icon for $1 and show their support in the fight to end childhood cancer.  In appreciation of the donation, guests will receive a coupon for $1 off their next purchase.
 
To learn more about ALSF, you can visit www.alexslemonade.org, www.facebook.com/AlexsLemonade, www.Twitter.com/AlexsLemonade, or www.youtube.com/AlexsLemonade.
 
We look forward to seeing you at Auntie Anne's.  Thank you for helping us raise money to help find cures for childhood cancers!
Valid through September 11, 2016